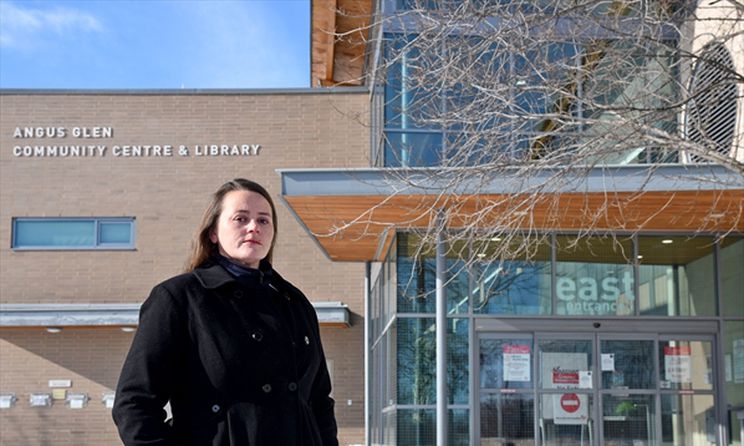 'Dire' situation says CUPE vice-president calling for recall of 197 workers, restoration of service
Markham Public Library (MPL) stands out across the province as having one of the highest number of laid-off staff for the longest period of time in response to pandemic closures with no plan to recall workers or restore service, says the vice-president of the union representing library employees.
CUPE Local 905's Rayanne Lees is calling for the immediate recall of the 197 part-time employees who remain on indefinite leave since the spring, as well as the restoration of "fair" library service to Markham residents, after staff were put on declared emergency leave over 10 months ago by the library board, following consultation with the city and legal advice.
"The situation is dire, not only for the workers who have been left in a financially precarious position at a highly tumultuous time, but also for the workers who have been retained as they are now saddled with heavy workloads and low morale," said Lees.
"It is also unfair for the residents of Markham, who are now receiving lower-quality services compared to other communities in the region," she added.
While MPL was not alone in being forced to close its doors last spring, it has laid off far more workers than other library boards in the region and only opened three of its eight libraries (Markham Village, Thornhill Village and Unionville) even after curbside pickup was allowed, said Lees.
By comparison, Vaughan laid off 38 casual workers while Richmond Hill temporarily laid off 14 employees.
The city could not detail how much money the measure saved, saying only any achieved savings were used to mitigate the budget deficit due to COVID-19 closures and loss of revenues.
But with libraries across the GTA returning to 100 per cent staffing levels months ago, Lees questioned why Markham is failing to use the skills and talent of part-time and page employees who are suffering increased financial strain, stress and anxiety due to the extended layoff.
"I have been off work for 10 months with no end in sight," said one of many longtime employees who wanted to remain anonymous for fear of reprisal. "Being off has been stressful and worrying … and I do not feel confident that I will be rehired."
Many of the remaining 49 full-time staff said they feel stretched beyond limits carrying the full load of curbside circulation, information services and online programming while making up 25 per cent of the workforce.
Customers, who were originally very sympathetic, are now losing their patience, especially when they compare services and staffing in neighbouring municipalities, according to some staff, who said they were "explicitly instructed not to discuss staffing shortages with customers and received veiled or explicit threats from management that they, too, could soon find themselves out of work."
Deputy Mayor Don Hamilton, who sits on the library board, was incensed over reports of threats and said they should be immediately investigated.
Although none have been formally filed with MPL management, any official complaints tabled would be under the purview of the library's HR team to determine if workplace behaviour contravened the city's respect in the workplace policy.
Hamilton also said extended provincial closures are impacting services, with many of the city's libraries housed in shuttered community centres.
But Lees said MPL could better meet the challenges of this pandemic and fulfil its mandate to its patrons with a full complement of staff.
"We are not asking for anything that is unreasonable or unsafe. We are not asking for anything more than what every other library in the area has been able to provide for their employees and their residents."
Discussions between the union and MPL management regarding a recall plan are ongoing, but Lees said the modest number of pages being considered was "a disappointment" after so many months and with so many laid off.
https://www.yorkregion.com/news-story/10319829-markham-library-board-in-bad-books-with-union-over-layoffs-threats-to-staff/