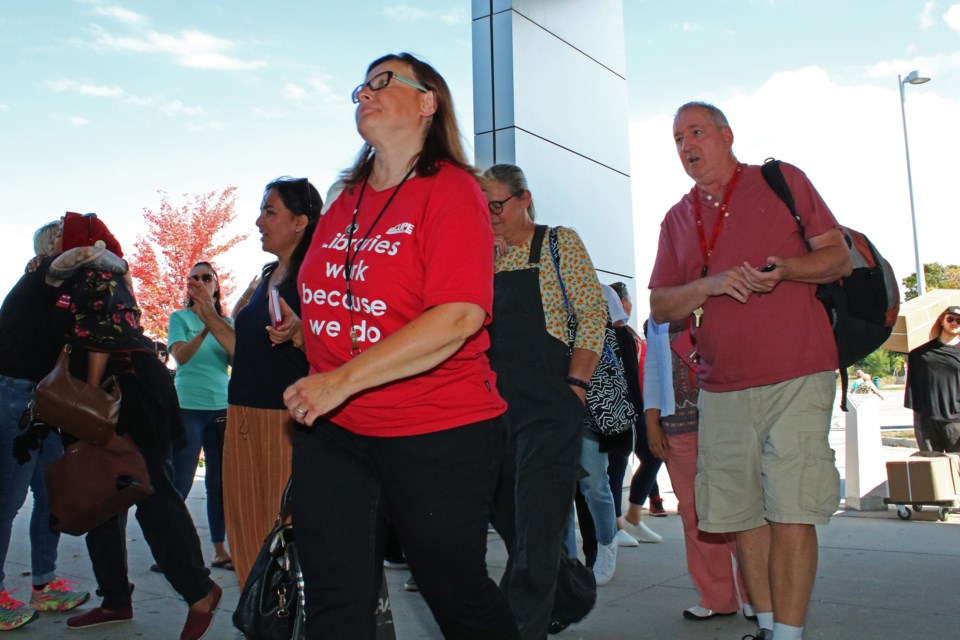 Michael Owen
Bradford Today
October 4, 2023
Workers made their return to the library at midday on Wednesday, but not in the way they had hoped.
Bradford West Gwillimbury Public Library workers had been on strike for 71 days starting on July 21 after negotiations over their first collective agreement came to head, but a decision from the Ontario Labour Relations Board (OLRB) to proceed with binding arbitration was issued Friday, putting an end to the strike.
At noon, Katherine Grzejszczak, president of Canadian Union of Public Employees (CUPE) Local 905, which is representing the 34 (previously 36) library workers was joined by a small crowd of about a dozen community supporters discussing how they could continue showing their support for the workers.
As more workers arrived for their first day back and more community members attended to show their support, Grzejszczak acknowledged everyone's efforts and encouraged optimism.
"I wanted to congratulate you on your bravery, perseverance and unity over the last 71 days, and like I said the fight is not done. The strike is done, but the fight for a $1.35 and that contract and fairness and respect is not through," she said.
Richard Fernandes wasn't sure what to expect on the first day back at the library.
"I'm not very happy about it. It's just not fair. I don't know how to take it. I'm a little bit anxious," he said.
Fernandes was already going over a mental checklist of everything that would need to be done in order have the library ready for the public by the expected opening time of 4 p.m. this afternoon.
"Besides being forced back when a lot of things still haven't been addressed, now we're going back with two months of backlog that are supposed to be cleaned up within a couple hours to open up to the public," he said.
Still, there was a silver lining in returning to the work he likes.
"We want to help and interact with the community. I enjoy my job — that's why I applied here, but it's bittersweet," he said, noting that there's still a feeling of disrespect from the employer (which is the library) towards the workers, for its decision to apply for arbitration.
Khalida Qaderi expressed her appreciation to her colleagues, the union and the community supporters.
"Thank you so much for supporting us. I'm so emotional now, that I can't talk, but I want to thank you guys, especially the CUPE people, I really appreciated what you did for us. … I love all you guys, you are like my family. We bonded together. We knew each other more in this two months with all our ups and downs," she said.
Judy Koulis echoed that bond between library workers.
"We came out strong, and we will be going in stronger. We came out as coworkers and we're going back in as family," she said.
Even though she wasn't sure what to expect on the first day back, she was happy the workers have each other.
Despite being disappointed their right to strike was taken away and being mandated back to work, Koulis was still happy to be able to serve the community again, and remained positive about the final outcome of arbitration.
"I feel like we lost the battle, but we haven't lost the war," she said.
Bailey Shaw shared the disappointment over being sent back under the conditions, which she called discouraging, but also echoed the sentiment of being bonded together.
"I think over these last 71 days, we have become so close as a team that we're not going back in alone, and I think that's going to help a lot of us. We're coming back in stronger, tighter," she said.
Coming from the programming side of the library, Shaw said she's looking forward to returning those programs to kids, adults, teams and volunteers, but expects it will be a bit of a challenge after so much time away.
"It's going to be a big push to get all of that together, but I know my team will work well together and we'll really try to help each other and support each other to get as much done together as we can. It's going to be tough," she said.
Andrea Vander Kooij expressed disappointment over the way the employer characterized the group's willingness to negotiate.
"We have been so clear in our requests. We've been so reasonable in our bargaining. … We came down from an initial request of $1.50 and we were initially requesting benefits for part-timers," said Vander Kooj.
"We gave those up and we came down and we came down, and then to be mischaracterized by our employer in front of the labour board as unwilling to bargain feels deeply hurtful," she said, noting that workers bargained for 27 days over 11 months starting in September 2022 before eventually going on strike.
That hurt is mixed with her deep commitment for providing children's programming at the library, some of which continued during the strike with storytime and craft events held on the picket.
"I'm always happy to serve the community and that was the thing I missed most. … Of course I look forward to serving my community, but under these circumstances, it just feels like a slap in the face from our employer and from the powers that be," she said.
Vander Kooij remains angry with how the strike ended and losing the right to strike.
"We live in a country where we're told all the time we have these incredible freedoms and it is so much better to be here than other places where people don't have freedoms. Then to have exercised our right to do this and have it taken away from us with what I feel is very flimsy reasoning feels pretty disheartening, pretty disillusioning," she said.
Vander Kooij said the group unionized specifically to have more recourse, accountability and respect from management.
"I don't like being forced back in. This is not our choice," she said.
In the meantime, Vander Kooij remains hopeful that the arbitration decision will be beneficial for the workers and she knows that workers will continue to advocate for themselves.
https://www.bradfordtoday.ca/local-news/not-our-choice-bradford-library-workers-mandated-back-to-work-7641069