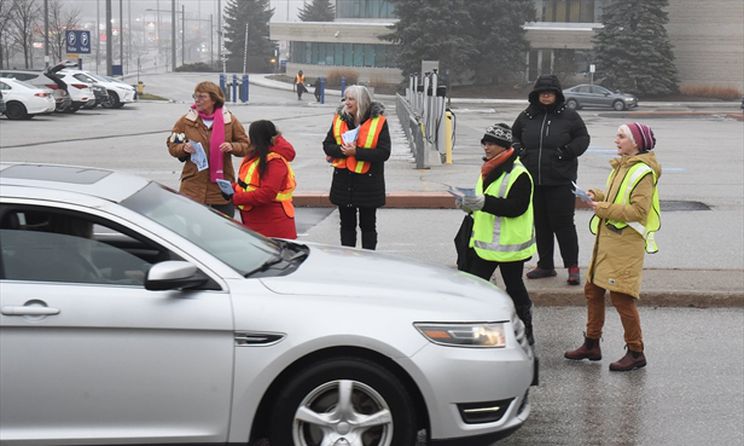 'These are our homes and it is our goal to make them the best homes and run them well.'
Kim Zarzour
YorkRegion.com
February 3, 2023
Residents waiting for hours to receive food or help to the bathroom, to be moved from wheelchair to bed or repositioned, so they don't develop bedsores — that's the dire picture of York Region's two government-run long-term care homes described to regional councillors Feb. 2.
Regional council members, deliberating over the proposed budget, which includes long-term care, expressed concern Thursday morning after hearing about trouble at Maple Health Centre and Newmarket Health Centre.
Katherine Grzejszczak, president of CUPE's Local 905, is currently in arbitration with the region, told the meeting the crisis is twofold.
"First, due to understaffing, there aren't enough workers to provide dignified care to vulnerable residents. Secondly, the region is unable to retain staff due to working conditions."
As the health care crisis deepened, patients requiring hospital-level care have instead been moved into long-term care homes and staffing has not kept up, she said.
Staffing levels that were increased during the height of COVID were reduced by management, despite COVID outbreaks continuing, she said.
In a survey conducted before the homes' staffing was reduced, 75 per cent of employees said they did not have enough help to provide dignified care to residents.
"Workers are leaving the profession because of the daily emotional distress of having the most vulnerable people rely on you as you struggle to find time to provide the most basic level of care. This is shameful in a municipality as wealthy as York Region.
"When some of us were staying at home, these workers were putting their lives on the line for the residents every day. Going to work meant you could catch COVID and die. These workers lived in motels or their basements to avoid exposing family members to a virus we knew very little about and for which there was no vaccine."
When residents were dying of COVID and family were not allowed in, the workers — mostly racialized and female — were at their side in those final moments, she said.
The region at the time hailed them as heroes, but since then, 100 staff hired on temporary full-time contracts have been let go, she said.
Grzejszczak said the union tried to address working conditions through bargaining, negotiating for improved wages, minimal staff-to-resident ratios and full-time employment with full benefits.
The region has left the bargaining table and deferred to a lengthy arbitration process, she said.
"I asked that as you finalize the budget for long-term care, you consider the residents and people who care for them, provide 100 permanent full-time positions to those who showed up when we needed them."
Vaughan regional councillor Mario Ferri asked Katherine Chislett, the region's commissioner of Community and Health Services, what her department has done to address the issues.
"I know the region has made senior services a priority and we played a lead role in the long-term care reform, so to hear [Grzejszczak's deputation] was a disturbing message. … They are one of the most vulnerable groups and it's important we don't forget about them."
Community and health service commissioner Katherine Chislett said there is a "substantive staffing ask" in the upcoming budget, including 24.8 FTEs for direct care and an additional two to help with compliance issues to increase hours of direct care for residents.
Chislett said the region is mandated, under the provincial long-term care act, to provide one nursing home directly operated by the municipality or by another party on their behalf.
Legislated changes in long-term care is one of the key drivers in the department's 2023 net budget, proposed at $268.5 million, an increase of 3.98 per cent from the previous budget.
"If we decided to get out of the business on the second one, which we're not legally mandated to provide, it's a very, very extensive process, five to 10 years, with no guarantee that you'd be able to.
"These are our homes, and it is our goal to make them the best homes and run them well."
https://www.yorkregion.com/news-story/10846509–this-is-shameful-york-region-hears-concerns-about-regional-long-term-care-homes/