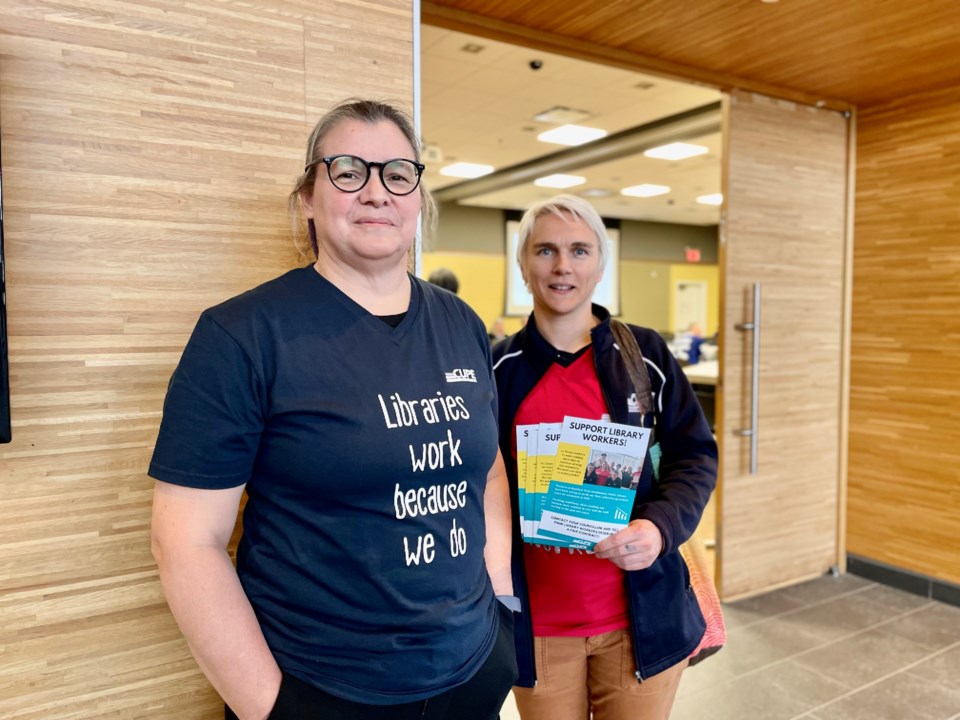 'We're still quite far apart … It is very much about fair working conditions,' union president says; Mayor says council will let negotiations play out
Bradford Today
Patrick Bales
May 4, 2023 2:30 PM
In the eyes of CUPE Local 905, the only thing overdue at the Bradford West Gwillimbury Public Library is a fair deal for the workers.
Library workers were on hand at the Bradford West Gwillimbury Library and Cultural Centre prior to the May 2 meeting of council to hand out imformation pamphlets to attendees encouraging them to put pressure on councillors to get a deal done and give the workers who make up Unit 29 of CUPE Local 905 a "fair collective agreement," said Katherine Grzejszczak, CUPE Local 905 president.
"These workers unionized in 2021," she said. "They've been bargaining since fall of 2022 and council needs to step up and ensure that there is a fair collective agreement and that we avoid any work stoppage."
Council, however, is content to let the process play out with the actors currently in place.
Mayor James Leduc did not comment on the demonstration from the approximately dozen-and-a-half union members in attendance, who were situated in the lobby of the library prior to the meeting and sat in the back of the Zima Room for its first hour.
"I've stayed out of the negotiations; I have not asked anything," Leduc said. "I think we have a chair there that is capable of doing what he needs to do. Our CAO I have full confidence in, our board I have full confidence in."
Council will deal with the matter, the mayor said, when a tentative agreement is put in front of them to ratify.
That might not happen anytime soon, however.
May 2 marked the 20th day of negotiations between the Bradford West Gwillimbury Public Library Board and CUPE. Grzejszczak characterized the process as "extremely slow," with talks only just beginning on the financial portion of the collective agreement.
"We're still quite far apart," she said, noting there are more issues at play than just salary.
"The vast majority of the workers are women and the vast majority are part-time," Grzejszczak said. "It is very much about fair working conditions."
Those working conditions include benefits and pay, but also addressing staffing issues and burnout, said  Wendy Zwaal, Unit Chair for CUPE 905.29, who described what she feels life has been like for she and her colleagues over the past few years.
"We've also had a lot of people leave," Zwaal said. "It's been really difficult. Lots of burnout, lots of stress. Lots of people are fearful, lots of people are having a tough time."
That stress and uncertainty have led to "over half the staff" leaving the library in the past two years, Zwaal said. For those who remain, and are only working part-time, many are working a second job to cover their bills.
"None of us became librarians because we thought we going to (come into) a big financial windfall," Zwaal said. "We know what our work has to be. We love what we do and we love public service and it's frustrating when we really haven't been able to do the work we're capable of doing."
If the union and the library are unable to come to an agreement, a strike is on the table.
"The workers would not come into work and that would be really unfortunate for the community because we know the community supports library workers, it loves library services," Grzejszczak said.
https://www.bradfordtoday.ca/local-news/tough-time-cupe-comes-to-council-to-push-for-collective-agreement-6950918