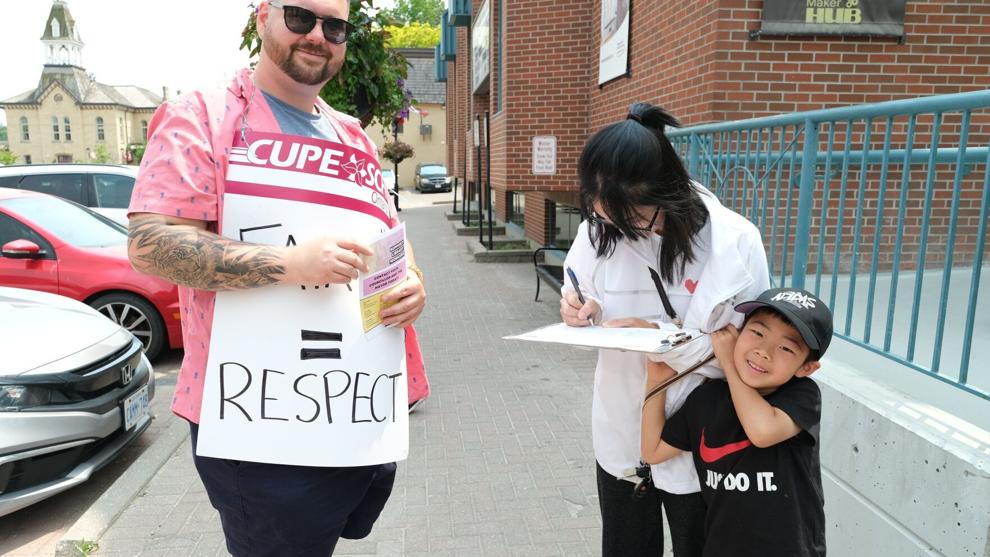 Library CEO hopes a deal can be reached during 3 future rounds of negotiations
Newmarket Era
Lisa Queen
June 15, 2023
Saying they are the lowest-paid library workers in York Region, with some relying on food banks, 93 per cent of Newmarket Public Library workers have voted to strike.
Library CEO Tracy Munusami is hoping a deal can be reached, with three future bargaining dates coming in July and August.
Most employees are part-time and have no benefits, according to Kathryn Richardson, chair of CUPE 905's Newmarket Public Library unit.
"Our library workers are incredibly dedicated and deliver amazing programming but it's getting harder and harder to attract and retain great people when wages and working conditions are better pretty much everywhere else," she said.
The union asked for a $3.50 an hour increase for all 32 workers. For the parttime staff, the union asked for a $1,500 health spending account. The library offer for the parttime workers was $100 and an annual spending account but not for all employees. It also offered hourly range of wage increases the first year from zero increase to $1.07 and hour and then a 1.75% increase in each of the second and third years, Richardson said.
The main issues are salaries as employees struggle to keep up with skyrocketing inflation, reliance on parttime workers with no health benefits and workloads, CUPE 905 president, Katherine Grzejszczak, said.
"Library workers would rather walk off the job than accept the library's monetary proposal. There was almost no increase for the one-fifth of workers who make minimum wage, above the provincially mandated increase to minimum wage this fall," she said.
"We have library workers using the food bank due to the poverty wages paid by the town…One of the main asks in this round of bargaining is health coverage so they can afford dental care."
Newmarket Public Library conducted a confidential market review for CUPE library positions and have provided CUPE with the results, Munusami said.
"Those results were considered in the monetary offer that ensures fairness and fiscal responsibility," she said, adding CUPE hasn't advised the library of the strike vote.
"We are thankful for our staff and their ongoing dedication to serving Newmarket residents and making the library an inclusive and welcoming place within our community. The library continues to evolve to create a space where people can connect and learn in many ways and our library staff are there to lead them in their discoveries."
At a petition signing outside the library on June 10, Richardson wore a sign that read "No more praises, we need raises."
Library work is increasingly complex and the library provides vital services and a free public space, Grzejszczak said.
"As the town and the province fail to provide affordable housing, address poverty and provide social services in our community, library workers become the front-line staff for every challenge. And it takes someone special to be able to do all that as part of their job."
The town is not the employer for the library and does not have jurisdiction over its collective agreement or employees. Public libraries are governed by library boards under the Public Libraries Act.
https://www.yorkregion.com/news/we-have-library-workers-using-the-food-bank-newmarket-library-staff-vote-93-in-favour/article_4674e3c4-4e67-57d4-a0b8-33a7874f78f0.html