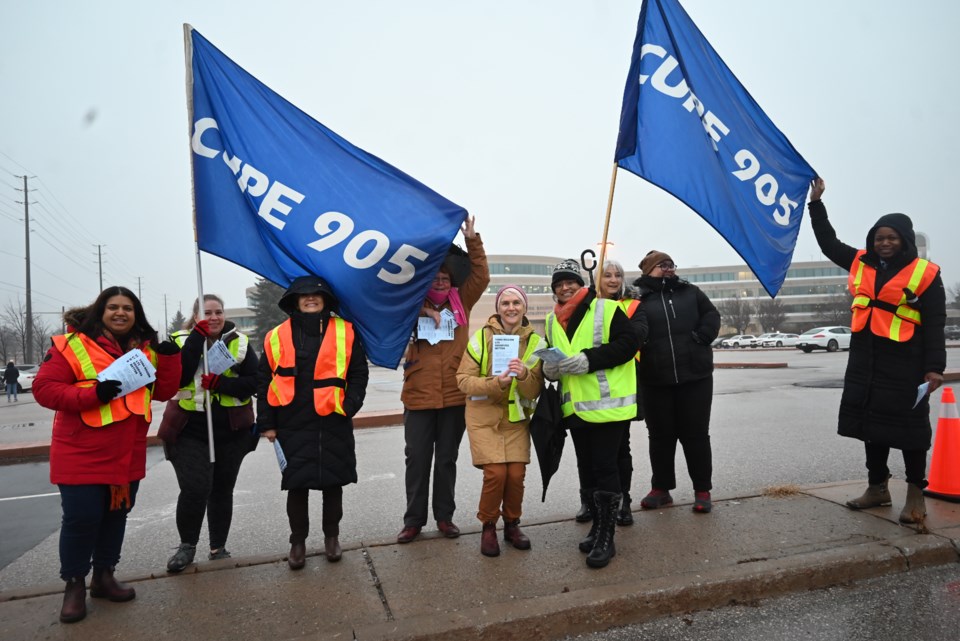 Union demands for more funding for additional long-term care workers disrupt regional council budget talks
Joseph Quigley
Newmarket Today
Feb 23, 2023
Newmarket long-term health workers forced York Regional council into a recess as they brought their protest into council chambers this morning.
CUPE Local 905, which represents workers at York Region long-term care homes, including the Newmarket Health Centre, began chanting in the council chambers after a deputation at the council meeting. The union is bargaining for a new deal with the region, demanding the hiring of more staff and that leadership issues be addressed.
The union sought a few minutes to address council further without a scheduled deputation, but that was not granted.
"What do we need? More staff. When do we need it? Now," union representatives chanted before eventually being ushered out of the room.
Long-term care workers have been demonstrating for several months to get a new deal with the region, with their previous one expiring in 2020 during the pandemic. The region has progressed with an arbitration process, but the union has sought to continue bargaining to get a new deal done sooner.
In a deputation, area resident Brenda Talbot recounted her mother having a fall at the Newmarket Health Centre on her way to the bathroom that left her wheelchair-bound. She said that could have been avoided if there were more staff there to provide assistance.
"As time goes on, we ourselves and our loved ones may have to live in these homes," she said. "Please add more staff to the long-term care throughout this budget so residents like my mum get the care they need in their final days."
As the chanting disrupted the meeting, York Region Chairman and CEO Wayne Emmerson called a recess.
"Your presentation didn't go very good," Emmerson said.
The region halted the livestream video from the council chambers as it went into recess for several minutes before the budget meeting resumed.
The union had also demonstrated outside York Region headquarters in Newmarket last month as budget deliberations began. It had made similar requests in a formal deputation to council Feb. 2. In response to a council question at that Feb. 2 meeting, community and health service commissioner Katherine Chislett responded that 25 full-time long-term care position equivalents are being added.
But a deal has not yet been made, and the union seeks to have more workers get full-time status. It is also raising concerns about worker treatment by long-term care home leadership.
The region has previously said it will stick with arbitration but is bargaining in good faith.
"The region will continue to negotiate with the assistance of a mediator-arbitrator to help the parties reach a fair and timely outcome," director of corporate communications Patrick Casey said last month.
Council did not speak about the disruption, or the union asks after the meeting resumed.
Union president Katherine Grzejszczak said they have tried all avenues possible to get council to fix concerns about not having enough staff. She said short-staffing remains a present issue impacting long-term care residents.
"It's sad that council couldn't take 15 minutes to listen to the racialized women that showed up in person on their day off, after working a night shift, because the staffing is so dire," she said after the meeting. "LTC workers don't have the right to strike and have run out of ways to get council to address safety issues for residents and themselves."
She further said that the region has recently cut more than 100 full-time positions that need to be returned, and the region's proposal is not doing nearly enough.
"Sadly, council would rather silence their own workers, and intimidate them by calling police, than fix the real safety issues in the homes," she added.
NewmarketToday did not receive a reply to a request for comment from York Region before publication time and will update this story when one is received.
https://www.newmarkettoday.ca/local-news/york-region-ousts-ltc-workers-from-council-chambers-after-protest-6599378